Biography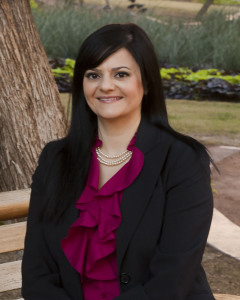 Luçik Aprahämian's versatility as a conductor places her equally at home in front of an orchestra, vocal ensemble, and the opera stage. She is the Artistic Director of the San Francisco vocal group, Resound Ensemble, on faculty at the San Francisco Girls Chorus as Level III Director, Music Director at First Lutheran Church of Palo Alto, and is a special-projects conductor with Opera Parallèle.
In addition to season concerts, upcoming projects include a commission for Resound Ensemble by composer Anne Hege, which will be premiered in Fall 2017; assistant conductor for OP's production of The Little Prince in Fall 2017; preparing the SFGC Level III chorus for the holiday concert with San Francisco Symphony; and conducting the Hands-on Opera for OP in Spring 2018.
An avid exponent of new music, Aprahämian has commissioned and premiered works for a variety of performing forces. Premieres include composer Chris Pratorius' Xochitl and the Flowers, commissioned by Opera Parallèle for their Hand-on Opera program; Sheli Nan's oratorio, Last Stop Cafe; Andrew Pascoe's opera, God: The Opera; the U.S. premiere of the Costa Rican zarzuela, Toyupán; Hillary Connover's The Six Swans; and David Evan Jones's chamber opera, The Rehearsal. Commissions include Christopher Pratorius' Variations on a Theme of Lou Harrison commissioned for the Cabrillo Festival of Contemporary Music Youth Orchestra, as well as his Cántigas de Mi Amigo Martín for the Women's Chorus at The University of California at Santa Cruz. Appearances with orchestral groups includes resident guest conductor with the Scottsdale Arts Orchestra in Arizona, as well as the Santa Cruz County Youth Symphony in California. Aprahämian was the director of the youth orchestra and student staff program for three seasons at the internationally renowned Cabrillo Festival of Contemporary Music, and was invited to attend as an auditor for the Cabrillo Festival's Conductors' Workshop last summer led by Maestra Marin Alsop.
Aprahämian has a great passion for opera, and she can be seen on the podium as well as backstage working with sets, props, lighting, and directing. She was the co-artistic director of Southern Arizona Opera, an organization that presents chamber versions of standard and contemporary operas and has worked as assistant conductor and chorus-master for various professional opera companies in the Bay Area including Opera Parallèle and Bayshore Lyric Opera. She worked as the assistant conductor and director of the Opera Theatre Program at the University of California at Santa Cruz for over a decade on operas such as Don Giovanni, Street Scene, Le Nozze di Figaro, The Medium, Gianni Schicchi, L'Elisir d'amore, Carmen, and A Midsummer Night's Dream. In addition, she was the chorus-master for the University of Arizona Opera Theatre and Opera Theatre Scenes. She was the chorus-master of the San Francisco Girls Chorus for the San Francisco Opera production of Carmen in 2016.
With an extensive background in vocal music and ensembles, she has worked with groups of all ages and skill levels. During her time in Arizona, she emerged most notably as a leader in the arts community through her work with the Phoenix Women's Chorus. In her five seasons as artistic director, Aprahämian's vision for the choir centered on collaboration, as well as leadership in the community with a strong commitment to social justice. She worked to expand the choral repertoire and commissioned several works for the choir, including L. Peter Deutsch's Where Everything is Music for choir and saxophone; Deborah Dougherty Prayer of Music for choir and piano; and Dante De Silva's A Rejuvenated Heart for choir, flute, clarinet, violin, and cello, which was featured at the 2012 GALA Festival in Denver. As a collaborator on stage, she has worked renowned and up-and-coming musicians including concertmaster of the Phoenix Symphony Steven Moeckel, organist Dr. Jonathan Gregoire, Arizona State University flute professor Dr. Elizabeth Buck, and Mana Saxophone Quartet founder Michael Hernandez.
One of the major accomplishments of her tenure with PWC was spearheading the "We Are One" concert, which brought together the various LGBT musical ensembles in Phoenix for a grand concert event. In addition, Aprahämian lead the name change of the choir from Arizona Women in Tune to Phoenix Women's Chorus. This change has propelled the chorus into a new chapter in its twenty-five year history and has raised its visibility in the greater global community of LGBT choruses. Aprahämian is passionate about social justice and giving voice to underserved communities. Under her leadership, PWC has supported and provided a platform to various charitable organizations in the Phoenix area, including women's, children's, and LGBT groups. She continues to extend those values through her work in the Bay Area.
Aprahämian has held various faculty positions in California and Arizona including at the University of California at Santa Cruz, Hartnell College, Arizona Academy for Arts and Academics, and BASIS Phoenix. She received her bachelor's degree in fortepiano performance practice and master's degree in conducting from the University of California at Santa Cruz, and her doctorate in conducting from the University of Arizona. She has studied conducting with Nicole Paiement, Bruce Chamberlain, Elizabeth Schauer, Thomas Cockrell, and Charles Bontrager, and voice and theatre production with Brian Staufenbiel.